Introducing Runabout .2: The Next Generation Electric Bike Redefining City Utility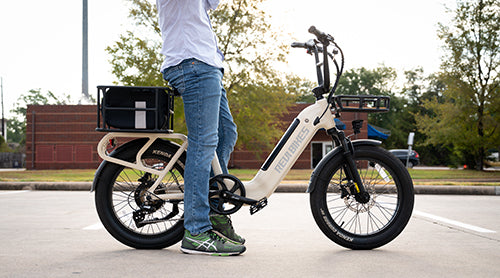 We are thrilled to announce the launch of our newest electric bike, the Runabout .2! Building upon the success of our original Runabout model, we've taken innovation to new heights with this second-generation e-bike designed for urban living and practicality.
City-Ready Design:
The Runabout .2 stays true to its urban roots with a compact 20-inch x 3.0 city thread tire that effortlessly glides through city streets, alleys, and crowded sidewalks. Its integrated rear rack ensures you can carry your daily essentials with ease, making it the ultimate daily commuter for city dwellers.
Cargo Versatility:
We understand the importance of utility in a city bike, which is why the Runabout .2 comes equipped with both a front rack and a spacious rear basket. From groceries to gym gear, you'll have the convenience of transporting cargo while you zip around town.
Powerful Performance:
Say hello to the brand new 52V system, featuring a 750W motor and a robust 15Ah (780Wh) battery. The Runabout .2 packs a punch, delivering enhanced power, exceptional durability, and a longer range compared to its 48V or 36V competitors. Embrace longer rides without worrying about recharging.
Safety & Visibility:
Night riders, fear no more! The Runabout .2 comes equipped with a super bright headlight that illuminates your path, ensuring safe and clear travels after dark. The dynamic brake light adds an extra layer of visibility, alerting those around you when you slow down, promoting a safer urban cycling experience.
Color Options:
We understand that personal style matters, and that's why we're offering a range of exciting color options. Choose from classic Black, timeless Cream, refreshing Water Blue, and for the daring riders out there, a limited-edition Pink. Express yourself while you cruise the city in style.
Exclusive Pre-Order Offer:
As a special thank you to our loyal customers, we're offering a limited-time pre-order sale. From 7/25/2023 to 8/20/2023, you can get a $200 discount on the Runabout .2, along with a complimentary front basket while supplies last. Don't miss out on securing your place among the first to experience this game-changing e-bike.
Get Ready to Ride:
The Runabout .2 is ready to transform your city commutes and elevate your cargo-carrying game. Place your pre-order now, and you'll be among the first to embark on the journey with the Runabout .2. Estimated shipment date is 8/20/2023, and we can't wait to see you riding the streets in style.
Join the Runabout .2 revolution and embrace the future of city utility!